--- December 2020
The 2020 faculty teaching awards have been announced. Congrats to Lusine Grigoryan for receiving the best overall teaching score award for seminar teaching and for the category award for "fairest scoring", and to Wilhelm Hofmann for the category award for "gain of new knowledge"!
Wilhelm Hofmann has been invited to join the newly formed climate crisis task force of the German Psychological Society (DGPS). The task force is chaired by Prof. Dr. Gerhard Reese (University of Koblenz-Landau).
On December 2nd, Wilhelm Hofmann delivered his inaugural address entiteld "Social Psychology in Everyday Life: The Case of Trust" - thanks to everyone for joining in!
--- November 2020
Wilhelm Hofmann has been named to the 2020 Highly Cited Researchers list from Clarivate's Web of Science citation index. The list identifies researchers who have demonstrated significant influence in their academic field or across several fields through the publication of multiple highly cited papers during the last decade.
--- October 2020
The public, interdisciplinary lecture series on climate change and sustainability has started. It is co-organized by Scientists for Future Bochum and the Social Psychology Area. For more information and schedule of talks click here.
--- July 2020
On July 10 we had our 2020 day out with a relaxing bike tour along the beautiful river Ruhr and some industrial heritage sites.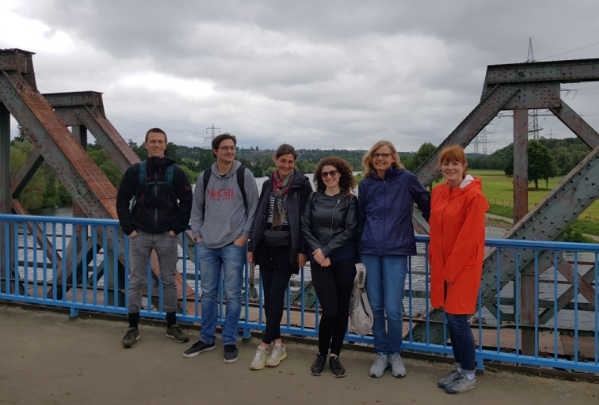 --- June 2020
Lusine Grigoryan received the BIGGS Best Paper Award 2020 by the Bremen International Graduate School of the Social Sciences. Congratulations, Lucy!
--- April 2020
Tijana Kuzmanovic has joined our team as postdoctoral researchers.
Tijana Kuzmanovic begins a new 3-year Research Associate position in our unit and continues her work on intergroup relations and prejudice.
--- January 2020
We enjoy teaching Social Psychology! Four group members received faculty teaching awards for the 2020 summer term (from left to right): Phillip Ozimek ("support of students"), Sonja Grelle ("fairest scoring"), Wilhelm Hofmann ("best overall lecture evaluation") [represented here by Maike Luhmann], and Hans-Werner Bierhoff ("fairest scoring").